I am a Research Associate for Laparoscopic Liver Surgery, working with Dr. Matthew J. Clarkson at WEISS (Wellcome / EPSRC Centre for Interventional and Surgical Sciences), University College London (UCL), U.K. My current research concerns the development of an image guidance system for the laparoscopic liver surgery using Augmented Reality (AR). I am also working on how to train deep neural networks with very limited amounts of labelled data, and how to utilise synthetic data more effectively. Previously, I was a Postdoctoral Fellow, working with Dr. Erol Özgür and Prof. Adrien Bartoli in EnCoV at Université Clermont Auvergne, France. I obtained a Ph.D. in Computer Science supervised by Prof. Niloy J. Mitra in Smart Geometry Processing Group at UCL. Before that, I obtained an M.Sc. in Computer Graphics, Vision and Imaging, also at UCL.
---
News
July, 2018 - I moved back to UCL as a Research Associate at WEISS, UCL.
16 May, 2017 - Our paper Deformable Registration of a Preoperative 3D Liver Volume to a Laparoscopy Image using Contour and Shading Cues is accepted for MICCAI 2017.
July, 2016 - I moved to EnCoV at Université Clermont Auvergne, France, as a Postdoctoral Fellow.
---
Publications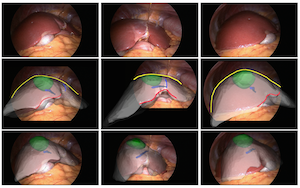 Deformable Registration of a Preoperative 3D Liver Volume to a Laparoscopy Image using Contour and Shading Cues
Bongjin Koo, Erol Özgür, Bertrand Le Roy, Emmanuel Buc, Adrien Bartoli
MICCAI 2017
[pdf]

Towards Zero-Waste Furniture Design
Bongjin Koo*, Jean Hergel*, Sylvain Lefebvre, Niloy J. Mitra
TVCG 2016
[pdf] [project page]

Computational Fabrication Guided by Function and Material Usage
Bongjin Koo
Ph.D. Thesis 2016
[pdf]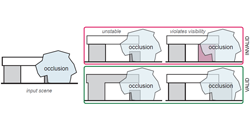 Imagining the Unseen: Stability-based Cuboid Arrangements for Scene Understanding
Tianjia Shao*, Aron Monszpart*, Youyi Zheng, Bongjin Koo, Weiwei Xu, Kun Zhou, Niloy J. Mitra SIGGRAPH Asia 2014
[pdf] [project page]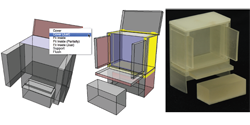 Creating Works-Like Prototypes of Mechanical Objects
Bongjin Koo, Wilmot Li, JiaXian Yao, Maneesh Agrawala, Niloy J. Mitra
SIGGRAPH Asia 2014
[pdf] [project page]
(*Joint first authors)
---
Contact
b.koo [at] ucl.ac.uk